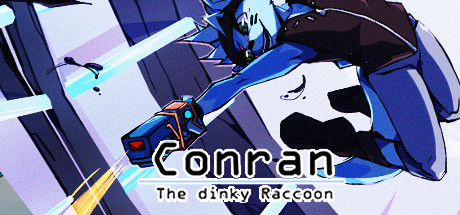 Genre: Action, Indie, Strategy
Developer: Nifty Productions
Publisher: Nifty Productions
Release Name: Conran.The.dinky.Raccoon-PLAZA

1 DVD
Description:
Conran -The dinky Raccoon is a 3rd person Wave Survival Shooter featuring a blue Raccoon Gladiator fighting drones in a futuristic, clean and stylized world. Blast your way through waves of enemies. Kill bots, collect their scraps to upgrade your weapons, take advantage of the dynamically changing arena and, eventually, buy yourself free.
Engage waves of bots on over 20 dynamically changing maps. Use them to your advantage and fight your way through to freedom!
Multiple Difficulty Levels:
All's in for your beginner gladiator! If you enjoy more of a challenge, take a try at the Nightcore mode and face all challengers in the dark.
The game features multiple unlockable weapons, each unique and effective in their own ways of pulverizing bots!
As a gladiator, Conran fights with his life on the line in the arena. Death gives him no way back…unless the raccoon's got enough scraps.